Music Bio – Pt.2
DRUMMING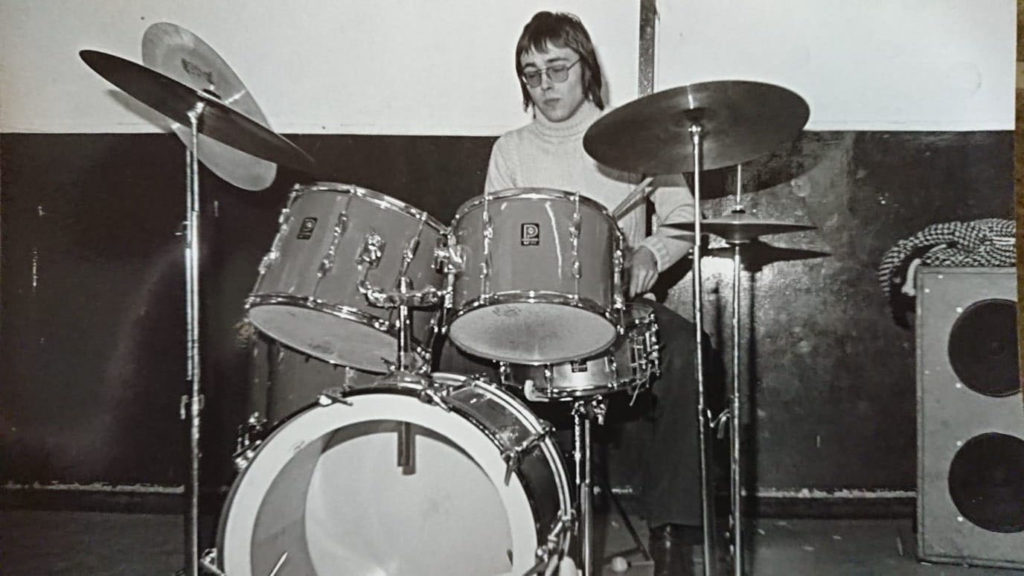 CHAIR, BOOK, CUSHIONS & SKIN
Kim's school friend, Dave Thurogood, introduced him to drumming. The duo had similar tastes in music and Kim often went round to Dave's house to listen to his excellent collection of prog.rock albums and watch him drum along to the songs on a chair that served as a snare drum. As Kim observed Dave, he was inspired to do the same, so bought some drum sticks, and used the hard cover of a book for a snare drum with cushions for tom-toms. The prehistoric drum kit I bought later had real skin on the floor tom-tom, which was constantly going out of tune as the atmospheric conditions in the room changed.
SCARY PRACTICE
Kim taught himself to play and practiced religiously in his parent's garage. Fortunately for the neighbours, it was located at the end of a long garden, but less fortunate for Kim, was that it was only about thirty feet from the grave stones in the adjacent cemetery that were clearly visible through the garage door windows when he played.
"I had an audience of sorts during those long winter nights of practicing, but it was quite scary at times, particularly when a heavy mist hung over the cemetery, or a howling wind found its way through the gaps in the garage doors and blew all my candles out! I would be left in total darkness and it wasn't the beating of the drums you could hear, but the pounding of my heart as it tried to escape from my chest." quips, Kim.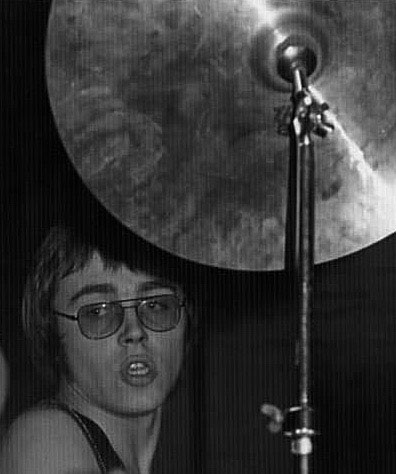 He eventually solved the power problem by working at Woolworth's for a week. His wages were just enough to buy a 150 foot electric cable, which he ran from the house, via the kitchen window, and up the garden path to the garage. With the flick of a switch he had electric light and mains power too. This was immensely liberating as it enabled other musicians to join Kim and subsequently led to the formation of his first 'garage' band. The line-up consisted of Kim on drums, Dave (whom he had persuaded to lay down his sticks) on bass guitar and his Godmothers son, Robert, on organ.
"It was an all instrumental affair and tremendous fun." says Kim.
LEGAL PROCEEDINGS
However, as his appetite for rehearsals and practice grew, he started drumming in the daytime during school holidays, as well as doing the evening 'graveyard shift'. This landed him in trouble with the local council whose offices where just beyond the cemetery, about 200 feet from his very loud drum kit. Clearly they did not appreciate Kim's rhythmic creativity and issued him with a written warning to desist, or face legal proceedings. Fortunately this was only a temporary set back as shortly afterwards the family moved to a big solidly built Edwardian house in Bushey, Hertfordshire, about six miles from Borehamwood. The house walls were so thick that Kim could play the drums in his bedroom without disturbing anyone.
INSPECTOR MORSE
The Lincoln Family home at 14 Cardinal Avenue, Borehamwood, Hertfordshire was a location venue for a number of scenes from episode 16, (Second Time Around) of the world famous Inspector Morse TV series, starring John Thaw.
"There is one shot of 'Mrs Mitchell's' garden, 92 minutes into the episode that briefly shows the brick wall of the garage where I used to practise." says Kim. Shortly after filming though, the property was sold and replaced with homes for the elderly.
DEEP PURPLE
One evening in 1969 while station surfing on his radio set, Kim tuned in to a concert where a rock group was performing with the Royal Philharmonic Orchestra live at the Royal Albert Hall in London. It was Deep Purple and the 'Concerto for Group and Orchestra' written by their organist, Jon Lord. This unique event was a catalyst for Kim, as it embedded in his mind the idea that it is possible to fuse these two distinctly different genres of music and create something powerful, yet beautiful. He became an instant fan and bought all Deep Purple's albums the next day. Their drummer, Ian Paice, was "awesome" says Kim, who paid tribute to him, and the immense talents of Jon, Ritchie, Ian (Gillan) and Roger five years later, when he ordered a brand new Premier Resonator drum kit in the colour deep purple.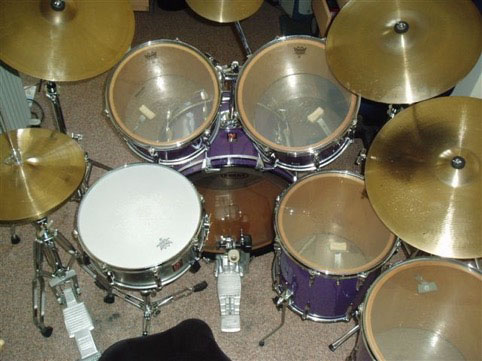 DIGITAL DRUMS
Kim still has the 'purple' drums but his permanent kit now is digital; the magnificent Roland TD-30KV V-drum set up that is neighbour friendly, and is, in his view, the 'Rolls Royce' of digital drum kits, though its replacement (the TD-50KV) is even better. He also uses DW Hi-Hat stands and twin kick drum pedals, plus Vic Firth FI American Classic sticks.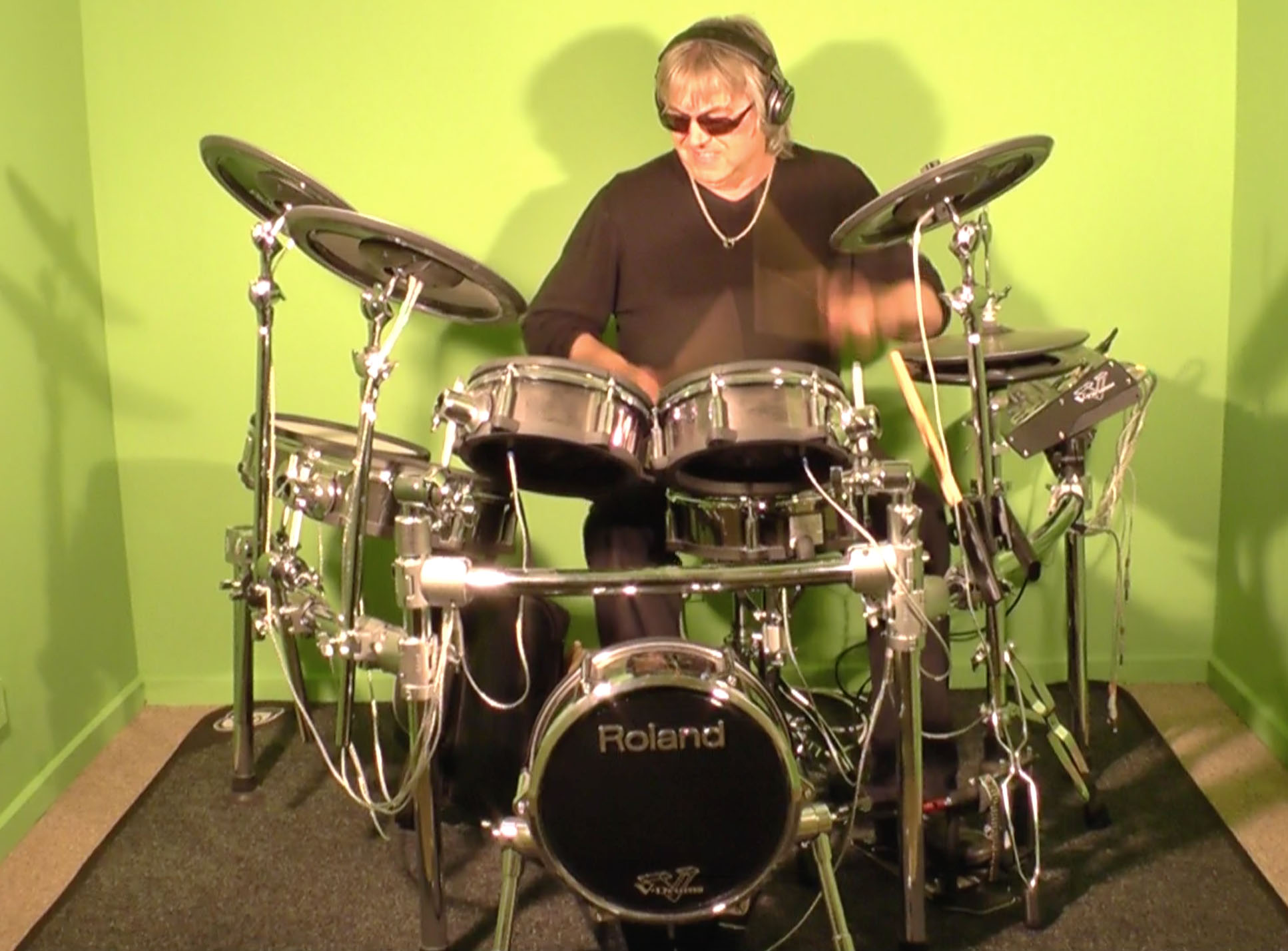 BUYING THE 'PURPLE' KIT
"My first drum kit consisted of an assortment of drums, cymbals and stands put together from other kits of different colours. Consequently, the resulting ensemble did not look or sound good enough for a drummer who aspired to be a rock star! In the early seventies musical instruments were relatively expensive compared with today, and credit was hard to get. So I decided that if he wanted a professional looking and sounding kit I would have to save up for one. I had set my heart on Premier's 'Resonator' model, which had the addition of an inner shell on each drum. This produced a deep, rich sound that was also incredibly loud. It had been designed in association with top British drummer, Kenny Clare, and thus was a very prestigious instrument." claims, Kim.
Kim was earning about £25 a week from his week-end hospital cleaning job and calculated that if he worked the maximum hours during the college holidays he would have enough to buy the 'Resonator' kit by Christmas. So, he solicited the cooperation of a Charge Nurse he knew well by offering to give his ward the deep clean it needed, but had never received. It was a geriatric ward where some of the patients were incontinent, so the Charge Nurse was grateful for the extra cleaning and happy to sign the timesheets that authorised Kim to work on his ward 12 hours a day, 7 days a week. After the first week Kim went to collect his wages but was told that the 'computer' was not programmed to pay out more than seventynine and a half hours of paid work in any given week, and that his time sheet was for eighty-four! Consequently, Kim was ushered into the wages office where they made up his money manually and warned him not to exceed the 'computer limit' again as it caused them extra work. Kim discovered later that his bumper pay packet had exceeded what the Charge Nurses usually received and that it had caused resentment in some quarters. So he dropped his hours into the 'safe zone', kept his head down, and the 'drum' money 'rolling' in.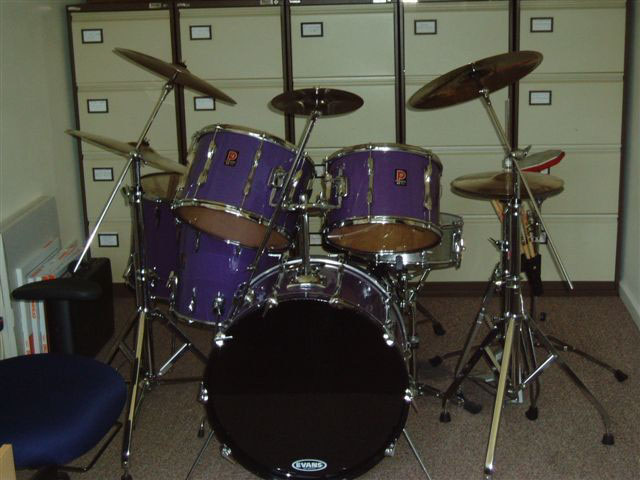 "I had teamed up with my friend, Anthony Stevens, in this endeavour, which made the long hours and hard work easier to bare. The ward had never been cleaner, and in November that year I became the proud owner of a brand new 'Premier Resonator' drum kit in the colour deep purple. I had saved up £400 to buy it, which would be about £4,000 in today's money. It was a major milestone in my life, the memories of which are still vivid – especially the day he went to the music shop to collect it." says, Kim.
Hammonds of Watford music shop was one of the biggest in the country and the manager, Ron Petit, had been the musical director of Kim's Secondary School (High School) band. This was unusual, as Ron's first instrument was drums. Well, on that special day Ron had set up Kim's new kit on the shop floor of the percussion department and tuned the drums to perfection. The kit looked fantastic and Ron asked him if he would like to hear how it sounded. Well, naturally, Kim said yes. Ron then proceeded to demonstrate how good a drummer he was. The kit sounded awesome and Kim maintains: "that it has never sounded better than it did on that extraordinary day."
What is odd about all of this is that when Kim was twelve he was given the opportunity of being taught to play any instrument, except that at that time, he had little conscious interest in music and so declined the offer. However, had he chosen drums, it would have been Ron who would have taught him!
PLAYING THE PURPLE KIT
Once he had mastered the basics, Kim had some lessons from a drum teacher, but did not stay with him long as the guy was 'old school' and insisted that Kim change from using the matched stick grip to the old military style one, which he did not find comfortable. However, Kim is grateful to the guy for teaching him the double-stroke role.
Kim's parent's house in Bushey was surrounded by residents who were musicians. His neighbour, next door but one, was the famous jazz trumpet player, Kenny Baker, who at that time played with Jack Parnell. Now Jack was a well known drummer, but also the musical director of Associated Television's (ATV) resident band. Moreover, the drummer in Jack's band was the talented, Ronnie Verril, who had the same kit as Kim. So you can imagine Kims delight when Kenny offered to take him to watch the band in rehearsals at ATV's studio's in Borehamwood, and to meet and chat with both Ronnie and Jack.
At the far end of 22 Avenue Rise (the road where Kim Lived) was 'Bob the Builder' who was also a semi-pro bass guitarist, with his own four-piece dance/cabaret band. Kim would never have known this, had Bob not knocked on his door and asked Kim's Mother if he could to speak "to the man playing the drums upstairs." Bob's reason for calling was to offer Kim a gig that evening as his usual drummer was ill. Bob said that Kim's share of the fee would be £35 (a fortune then) and Kim agreed without hesitation – even though he couldn't sight read and did not know any of the numbers on the set list.
"You'll be fine as I've heard you play, but should you get stuck, just follow me," said Bob.
Such confidence, thought Kim, as he started to pack up his drum kit – though he was not that worried, as during the five years he had been playing, Kim had learnt to improvise, and could lay down a beat to most things, and besides, the fee was too good to turn down. Confidence and positive thinking are a wonderful thing and the gig went extremely well, though being a free-style prog. rock drummer he found playing waltz's and quick-steps 'a bit of a snooze.' Bob must have liked his drumming though, as he kept offering Kim work.
THE BIG GIG
Kim's biggest gig with Bob's band was another watershed moment in his life as a musician. It was a Christmas dinner-dance for 1500 employees of a local firm at Borehamwood Civic Hall. The evenings entertainment included a knife throwing cabaret act that the band were contracted to support, though Bob never mentioned this when he offered Kim the gig. But, as Kim's cut was £150, he didn't ask too many questions. So imagine his shock when the knife thrower came into the band's dressing room, just before the show, to hand out the sheet music for his act. Kim looked at Bob with an expression of absolute incredulity, because he could not read the 'dots', and Bob knew it. Bob was momentarily lost for words knowing that he had dropped Kim in it big time, and Kim knew that somehow he would have to bluff his way through. After about ten seconds of silence, Bob regained his usual confident air saying that Kim would be fine, not to worry, and to follow him. It was his stock answer, but a compliment too as he obviously thought Kim had the necessary ability and self-belief to pull it off.
The band spent the first half of the show playing background music while the guests dined, after which, it was time for the business of knife throwing to begin.
To set the scene: a scantily clad young lady stood provocatively in front of what was akin to a giant dart board, as her male partner made himself ready 15 feet in front of her, armed with a fist full of deadly knives. He expected that the drummer would add to the drama of his death defying act by performing drum rolls and cymbal crashes with expert precision at the appropriate time. But as Kim could not read the music he had so diligently provided, things took a slightly different turn. In the circumstances, the only thing Kim could do was make it up as he went along, and hope that it was in tune with the knife thrower's requirements. So this he did, and although he interpreted what he thought was required reasonably well, what Kim played was, shall we say, like a train that did not always arrive at the station on time – much to the knife throwers consternation. Indeed, Kim recalls that on one or two occasions, the poor man turned to him in dismay with a look that gave Kim cause to wonder whether he was going to throw his knives directly at him, instead of his lovely assistant, who with tantalising expertise, he had always managed to miss. Yet, to the amazement of all the performers on stage, the audience thought that Kim's apparent ineptitude was deliberate, that his exploits were part of the act, and consequently, every time Kim's sticks struck home in an unwarranted fashion, roars of laughter poured forth from the crowd. Indeed, they lapped it up, and for the first time as a musician, Kim became the focus of the audience's attention.
"I loved it too, and later left the stage alive, uplifted and in a state of utter peace, as any fears I had had about performing live were completely erased." says, Kim.
THE 'ANGEL' AUDITION
Moving forward twenty-two years, Kim recalls the strangest of client meetings, as when, working as a financial adviser, he called upon a nursing home owner called Tony to review his life assurance. However, as he was unable to better Tony's existing arrangements the conversation switched to their respective leisure pursuits. Kim discovered that Tony played guitar and that he had his own band. So when Kim mentioned that he was a drummer, Tony's face lit up, and he beckoned Kim out of his office to a large single story building, about four times the size of the average garage. It had a huge reinforced double door, about a foot thick, which to Kim's surprise and delight was the entrance to Tony's rehearsal studio. It was fully equipped with a custom made PA, amps, speaker cabs, mic stands, keyboards, and, of course, a drum kit. Tony went over to his Marshall 100 watt stack, plugged in his Gibson Les Paul, and then invited Kim to get behind the drum kit. They jammed continuously for about twenty minutes, after which time Tony asked Kim if he would be interested in joining his outfit, as they had recently become drummer-less. Kim agreed, and that was the beginning of two years playing in a semi – pro female fronted rock 'n soul covers band.
"I never yearned to play other people's material, but my time with Angel did give me an insight into the construction of conventional pop songs, which proved useful when I started writing my own. So yes, I am very grateful to Tony and the guys and girls in the band for the experience and all the happy times." admits, Kim.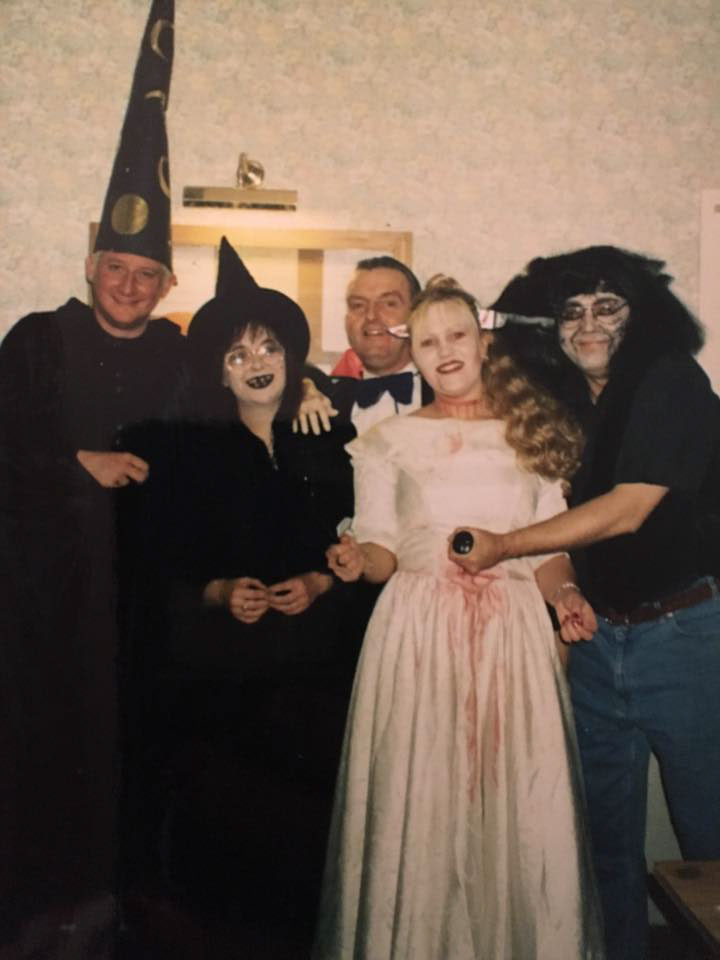 REHEARSALS WITH 'FTF' & MEETING PHIL COLLINS
During the eight years (1973-1981) that, FTF, was active the band spent hundreds of hours in rehearsal studios, working on material. Kim booked dozens of different venues and some of the places turned out to be real dives that required the gear to be carefully guided down narrow dimly lit staircases into windowless cellars with no ventilation. It was especially tricky when Phil needed to use his electric baby grand piano (bought from the hit prog. rock band, Argent) as it took four of them to lift it! And then there were those monster JBL bass bins and the rotating Leslie cabinets that pulled as many muscles as they built! In those days sound equipment was bulkier and heavier and, as they had no roadies, the amount of time and energy expended on a rehearsals was enormous. Often they would not get home until 2.00am having started eight hours earlier, and then have to get up four hours later to do the day job, that funded the music – as the gigs never did.
Eventually Kim found a farm in Amersham, South Buckinghamshire that was owned by the drummer from, The Pedlars, a well known trio of hit makers during the 1960's. The farm's barns had been converted into sounded proofed rehearsal studios and were used by some of the top bands at the time, such as: Yes, Thin Lizzy and Genesis. The Barnyard Studios, as they were called, were a dream. They cost more to hire, but were worth it, because they were so relaxing and hassle free. The only inconvenience was that the toilets (pun intended) were in the main house, so there was a constant stream of musicians (pun intended) coming and going to use the facilities. On one particular occasion Kim bumped into Phil Collins. Kim introduced himself and Phil made a joke along the lines that he better not shake Kim's hand as he had just come out of the toilet. Kim never saw Phil or Genesis there again as they went on to become a 'supergroup' shortly afterwards.